Changing Despair into Hope (絶望を希望に変えて , zetsubō o kibō ni kaete), is the forty-third episode of the Majin Bone anime adaption series. It originally aired on January 27, 2015.
Our team gives up on trying to recover from the Lab incident as everything is badly damaged. The professor is hard at work researching Rare Metal. Gregory and Victor make their way back to earth in order to assault the second lab. Luke is quick to predict this and heads off to face them alone. Entering the cocoon, Luke discovers how much he has grown up. And his bone, also appears before him, baring advice whilst being badly hurt from Wolf and Tiger. Will Luke be able to defeat them both?
Overview
Edit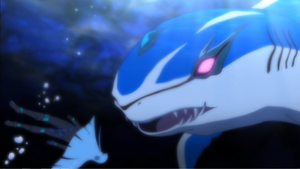 Characters
Edit
Major Battles
Edit
Ad blocker interference detected!
Wikia is a free-to-use site that makes money from advertising. We have a modified experience for viewers using ad blockers

Wikia is not accessible if you've made further modifications. Remove the custom ad blocker rule(s) and the page will load as expected.