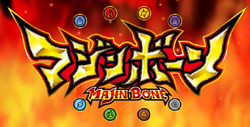 Majin Bone (マジンボーン, majin bōn), is a card game released in Japan. It was designed, developed and published by Bandai. The graphics and character designs are by Hideki Ishikawa. Since the game's official release, we has seen a manga series inspired by the cards, and the characters featured on them. In 2014, an anime adaption had been confirmed and is now currently airing on TV screens across Japan.
Card Game
Edit
The card game project was confirmed back in December 2013. The official release of the arcade game should be due May 5th this year (2014).
Manga Series
Edit
An ongoing manga series is currently being release. Written by Naoya Sugita, and published by Shueisha in Saikyo Jump, the first manga chapter was release on January 4th, 2014.
Anime Adaption
Edit
An anime adaption was in development during the new year of 2014. A promotional video was released to the general public in March, with the first episode released in April. The series is directed by Kōnosuke Uda, and Izumi Todo is credited with the story design.